Pallets on these rollers can be transported either lengthways or across. For cross transport roller spacing should be at 52mm. In lengthways transport depending on pallet weight 2-3 rails are required with 104-208 roller spacing
Pallet roller rails are the best solution for pallet moving orientated across the conveyor. They are mainly used in large warehouses and unloading terminals.
Solid and stable construction is the main advantage of pallet rails. Rails are, made out of 3mm high strength galvanized steel. They are also made of galvanize steel with load capacity of 150kg maximum. Ball bearings have a long life span and are maintenance free.
Often used in existing pallet racks. As well as guide or interconnections between processing workplaces.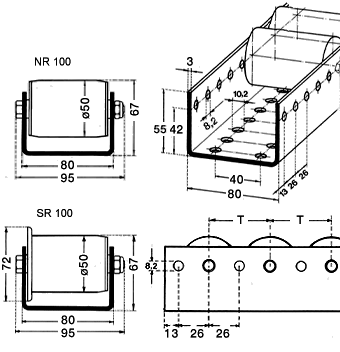 All tracks made out of galvanized sheets. Their optimal length does not exceed 6033mm.
Roller spacing in mm
| | |
| --- | --- |
| Type | Spacing |
| NR 100 | 52 78 104 130 156 |
| SR 100 | — 78 104 130 156 |
| Plug | EU |
Send Inquiry