Roller rails of high load capacity designed for large weight of transported goods. Due to their properties they complement universal roller rails. In many applications they are the only solution. Rollers with ball bearings placed inside the "U" profile with 50 x 58 x 50 x 2.5 mm dimensions and 40 daN (kg), easily replaceable.
Roller dimensions are 54 mm and they can be plain or flanged. Both types can be used alternatively. Outside roller surface is mad out of blue polypropylene. Ball bearings are completely made out of steel. Maximum load
of static moment is 3.0 cm3
Technical Specifications: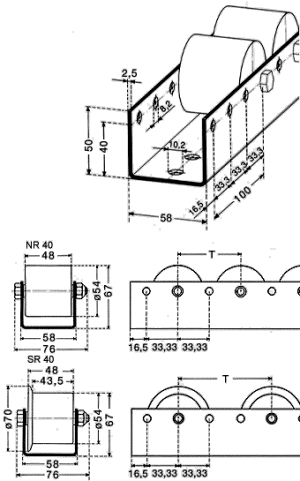 All tracks made out of galvanized sheets. Their optimal length does not exceed 6033mm.
Roller spacing in mm
| | |
| --- | --- |
| Type | Spacing |
| NR 40 |  66  100  133  200 |
| SR 40 |  —    100  133  200 |
| Plug |                  EU |
Send Inquiry