Widened pallet roller rails are used where, standard pallet rails cannot be used due to rollers of 74mm size, which can be too small or where a wider area of travel is needed. Because of this pallets of 1000mm and 800mm width can be transported on 2 or 3 widened pallet roller rails.
Rails made out of zinc plate "U" profiles.
For a zinc roller of Ø 60 x 2 mm dimension, maximum load is 160kg. Lift factors are:
Wy: 6,6 cm3
Ly : 31 c
Technical Specifications: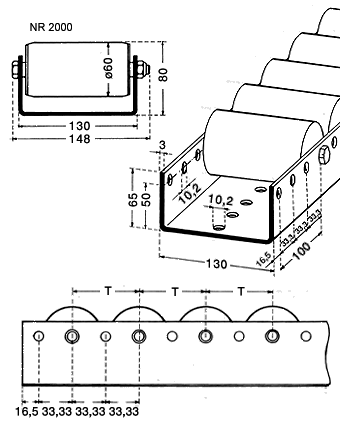 All tracks made out of galvanized sheets. Their optimal length does not exceed 6033mm.
Roller spacing in mm
| | |
| --- | --- |
| Type | Spacing |
| NR 2000 | 66 100 133 166 |
| Plug | GEE |
Send Inquiry